Do not be fooled by DIY bedliner or other dealers. Our lifetime or termed warranty ensures that your bed liner won't crack, fade, peel, or warp over time.
Dries fast!
No Peeling Up!
Heavy Duty for all types of cargo
Fully Transferable Lifetime Warranty!
Any color/texture
Crystal Clear now available
Custom Colored Bedliner
We use the best vendors for our paint systems. Our quality custom color bedliner product will leave you stoked that you purchase a Spray-Lining Custom Color Bedliner. We use:
Matrix
BASF
Sherwin Williams
Morton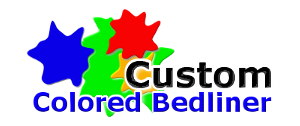 We offer the custom color you need for your bedliner. Why go with Black or Gray if you can have a color that matches your ride? At Spray-Lining we offer a variety of basic color options as well as an almost infinite selection of custom colors.
Direct from the Manufacturer
Unlike many others, Spray-Lining™ is the actual manufacturer of their bedliner and coatings. This means that as a Spray-Lining Dealer we are able to provide you with more material than any competing dealer like Rhino, Line-X, Speedliner, or Scorpion. We are also able to provide the BEST warranty in the industry. A lifetime fully transferable warranty is offered with every truck bed sprayed in our shops. It is backed by Spray-Lining, so no matter what happens to the specific dealer in the future, you are still covered.